Parade Of Competitors 2006, Jive and Waltz show
Standard dances DVD online:Parade of Championship Competitors, Cha-cha Solo by Vadim and Kathrin, Jive during competition, Vienese Waltz Classic Show Dance 2006:
To book the best dance entertainment for All Occasions please contact VADIM
ARTICLES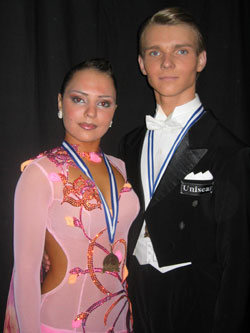 Vadim Garbuzov and Nadiya Dyatlova
Grand Ball 2003 Competition
November 8th and 9th 2003
The Grand Ballroom, Richmond, BC
Grand Ball 2003 Competition Notes
By Dance Way Team, Nov 18th, 2003
Editor: Kyla Ramsay
If you go to the Grand Ball competition and see it, you'll be back, if not to compete, you will be out there yourself! This year's 10th edition was special for 16-year-old DanceSport competitors Vadim Garbuzov and Nadiya Dyatlova.
As winners of last years Junior Championship in both Standard and Latin at the Grand Ball 2002, they challenged themselves considerably this year by entering both Under 21 Championship and Adult Open Latin and Standard categories.
As winners of Under 21 Championship Standard Vadim and Nadiya were honored to perform in The Showcase of Champions event, where they presented "Illusion" a composition choreographed with a relaxing and romantic flow. Final results also included second in Under 21 Championship Latin, 7th in Adult Open Standard and 8th in Adult Open Latin.
THE GRAND BALL 2003!
Andy and Wendy Wong ran a very well organized and planed competition, with all levels showing considerable skill and talent. After all, ballroom dancers spend great deals of time and money to reach their peak at competition time.
With the help of UNISEAS Vadim Garbuzov and Nadiya Dyatlova were able to become Canadian 2003 Youth Latin and 10-dance Champions, as well as Runners up in Standard.
Persistence and passion are the qualities that got them where they are, now the only missing ingredient is the financing to support their future and dreams of becoming even better and more recognized. Please consider sponsoring this extremely talented and promising dance couple so we can look forward to seeing their improvements next year at Grand Ball 2004! Dance Articles 2007-2006 by DanceWay.com