Tokyo, Japan Performance Notes
Okarina Party, Prince Hotel, August 3rd, 2003
By Mr. Fukushima
I watched Vadim and Nadiya's dance at the Okarina Party, Tokyo. I was quite impressed by their movements and enjoyed the show.
They are really ever best! I really hope from the bottom of my heart that they would have a bright future and their dreams will come true.
Sincerely,
Mr. Fukushima
Ballroom entertainment
DanceWay.com Team
www.danceway.com
Tokyo, Japan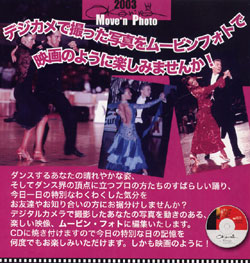 From left to right:
Carmen, Bryan Watson
Nadiya Dyatlova, Vadim Garbuzov
Joanne Bolton, Timothy Howson
Tokyo, Japan Performance, Aug 3rd, 2003
Okarina Party, Prince Hotel
The event was very well run by Ms. Konishi. Vadim and Nadiya performed samba dance called "Fantasia". This show piece had a very energetic influence on Tokyo dance enthusiasts.

Nadiya came out as a beautiful exotic and unusual bird. When Vadim notices her he starts chasing after her. She of course runs off not showing any sign of her interest for him even though she seems to like him.

The second dance of the program "Dreams". Here the man dances alone with a Rose waiting for someone to appear so he can give it to her. But to him it was just a product of his imagination. He doesn't know that the girl of his dreams would really appear.

The dancers performed powerfully and beautifully, and the audiences gave them enthusiastic applause.