New Ballroom Dress for Sale, Sept 2007
Blue Saffron angel skin ballrom gown
Blue Latin Lady Costume and Blue Man Top:
Lucky Dress! Vadim Garbuzov and Nadiya Dyatlova become Junior 2 Latin Finalists in Austrian Open 2002, November 17th in this costumes!
5th place out of 67 couples!
Costumes: the costumes are risqué.
Mail to us at:
www.danceway.com
Suite # 198, 3495 Cambie Street
Vancouver, BC, Canada, V5Z 4R3
BLACK TUXEDO – made in Europe
One brand new tuxedo plus…
Two black lucky tuxedos: Vadim Garbuzov became 2004 Youth Canadian Closed Standard Champion in one of them, Runner-up (2nd place) in Youth Canadian Closed Standard Championships 2003, in other black tuxedo.
For more details:
www.danceway.com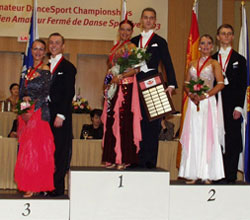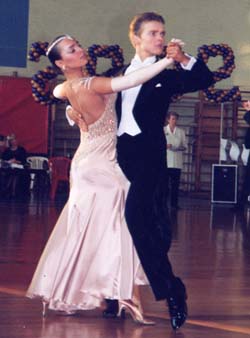 BLACK TUXEDO – made in Europe
Two black tuxedos
PEACH GOWN
Peach Gown: Western Canadian Youth Standard Championships Won: